Disclaimer: This is NOT a paid review. It is a personal opinion on equipment that I own and use on a daily basis. All of the hyperlinks are there as a quick and easy reference. Enjoy!
---
Over the last decade, I have used a ton of brand name and generic lifting bars. Some great and others not so great. Then, finally, the time came for me to purchase my very own barbell for my home gym. Luckily for me, I had become very familiar with barbells in different gyms all over the world, but if you find yourself not as acquainted to barbells as I am, you may be doing a lot of research looking for the right bar for the ever important "great deal". The first thought that crossed my mind was Rogue Fitness. For those of you that don't hate TV and the internet, you have probably heard of Rogue Fitness. They are most known for being the go to equipment provider for the extremely popular CrossFit. They also provide equipment for the Worlds Strongest Man competitions, and a Rogue bar was used in Eddie Hall's World Record Dead lift which should be a testament to the durability and quality of their equipment.
Now let's talk about the Rogue Bar 2.0 for us non world record breakers.
First off, the Rogue Bar 2.0 comes with a lifetime warranty!
This is a great thing for those of us who tend to have "oopsies" with everything we own. In my experience, Rogue truly stands behind their products and I've had great customer service in all my dealings with them. Also, it's a good feeling knowing that your investment into yourself has such a good backing and reputation.
Let's get into the details.
The picture below is directly from the Rogue Fitness website, it shows details of the bar.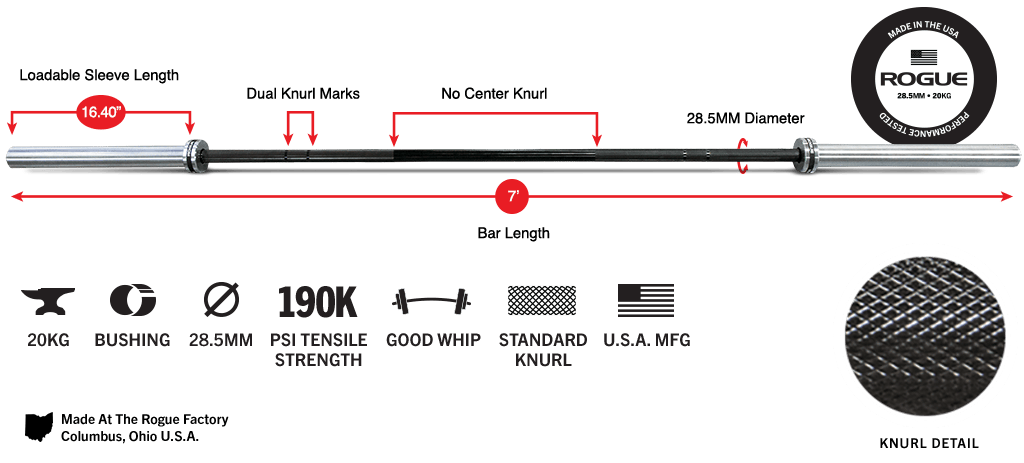 As you can see, it boasts some impressive stats.
But what do they mean?
Those features mean, you know exactly what you are going to get and what you are paying for.
There are other manufacturers that don't go into this much detail and sometimes that can feel misleading when you are reviewing a barbell to purchase, and that could lead to  making a misinformed purchase.
Notable Features:
Standard Knurling ~ The knurling is nice and grip but it won't rip up your hands to bad. I recommend chalk if your in a hotter environment as the knurling does not keep up with sweat very well.
Dual Knurl Marks ~ These marks are for hand positions during Olympic lifts and Power lifts. If you plan on competing, these are a nice feature.
No Center Knurl ~ Pretty awesome for conventional dead lifts if you accidentally scrape your shins. Not so awesome for sumo dead lifts, but it works your grip!
Bushings and Good Whip ~ These allow for very smooth spin when doing exercises like a squat clean. Try the squat clean with a cheapo generic bar, then try with the Rogue Bar 2.0 and you will feel an immediate difference.
This bar has all the features you need for a general purpose, jack of all trades, barbell.
I've told you all about this barbell and what it can be used for, so let's get to the important par PRICE!
The Rogue Bar 2.0 is far from the most expensive barbell on the market and it's certainly not the cheapest. It comes in at $255.00 without any additional options. This may sound like a lot, but in the quality barbell market this is a solid price. The saying, "you get what you pay for", is very true in this barbell, and I feel everyday, I got more than my money's worth.
Overall, the Rogue Bar 2.0 is a great barbell and should be a top contender on your list when looking to purchase your very own barbell.
Thanks for reading. If you liked the article, hit that like button, follow button, and follow Livftinglife on Facebook and Instagram.
---
---
Categories: Product Reviews